Japanese Quality Made in Vietnam
We undertake your OEM
With 40 years experience and technique in Japan, we undertake your OEM order.

<STEP 1>
Inquiry
2 - 3 days
Please feel free to make inquiry through phone call, e-mail etc.
Our staff will give you reply within few operation days and ask further detail on your inquiry.
<STEP 2>
Consultation
1 - 2 weeks
After reply to your inquiry, we will ask you the detail of your production; types of items to manufacture, concept of your products, budget etc.
It will go smoother if you can summarize following information.
<Things We will ask>
● Budget
● Number of the production sale
● Concept of the product
● Your demanding time of start selling
● Delivery Destination
● Targeting Customer

<STEP 3>
Proposal
About 2 weeks
We will consolidate the specification of the item accordingly with your demand.
Afterward, we will inform you the quotation of the product and the schedule of the production.
<STEP 4>
Production of the Prototype
About 1〜3 months
We start to make the prototype in the lab of our HQ in Japan accordingly with the specification. After making prototype, we design the production line in out factory in Vietnam. You will evaluate the production (taste, looking, size etc) and we will revise and improve the production process as much as you as you want.
※Production of the prototype is free of charge but extra cost may occur if the number of reproduction of prototype is exceeding certain times.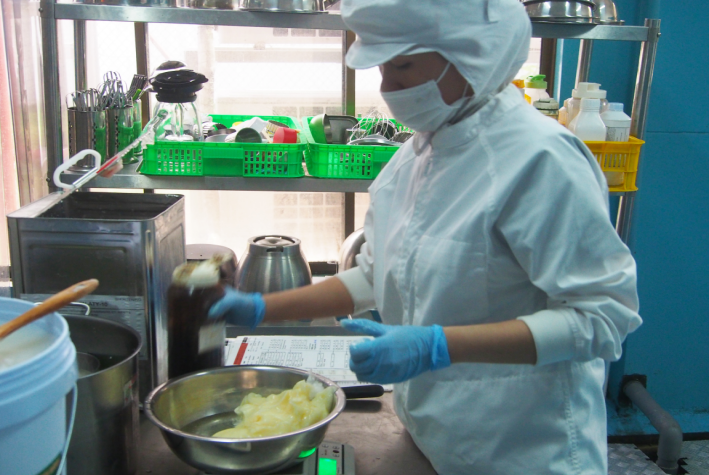 <STEP 5>
Mass Production Test and Inspection
After completion of prototype, we will do mass production test before actual production process.
We will also do preservation test and nutrition evaluation from random pick-up from the production.
※ This test and evaluation are for a fee
<STEP 6>
Contract
After the Mass Production Test, we will issue the official quotation of the OEM We will sign on the contract if you agree with the content and condition.
<STEP 7>
Production and Delivery
We will do production and packing according to the specification and contract. You can check the peoduction process as you visit our factory.
We will deliver the products to your designated place after production.
※The schedule and process may be differ by your demand.